STERILE   
From a few hours to 20 days in use.
An exciting range of short to extended-term use indwelling catheters from Millpledge, designed specifically for the larger animal where greater volumes of fluid are required and venous access requires further reach.
Using the same familiar material components of the hub, suture wings and flash bulb you have enjoyed in the Anicath, we have now incorporated the following additional features and materials to help reduce the incidence of cracking catheters, thrombosis and phlebitis associated with other inferior catheter materials used for extended periods.
Winged – For suturing and or taping in place.
Non-coring, tri-faceted needle bevel with greater wall thickness 15% stronger than other brands – Reduced risk of bending on insertion.
PUR with precision conical catheter material – Anti-kink, espouses to natural vein contours and inner wall surface profile, softens with body temperature for added comfort and flexibility.
Siliconised – Superior glide during insertion and placement.
Hydrophobic blood sealing plug in needle flashback chamber – Allows early visualisation of venipuncture.
Trocar locks on to the catheter – Prevents unnecessary rotation of the trocar when advancing the catheter.
Two advancement notches on the hub – Aids sturdy advancement.
Short-term or long-term use up to 20 days
14g & 16g in 133mm or 5.25″ lengths. Shorter lengths also available.
Sterile, Single use, packed singly in cartons of 10 units per size.
10% LESS $$ THAN THE LEADING BRAND
Anicath™ L/A Long term catheters (up to 20 days)
| | |
| --- | --- |
| V1MP06352 | ANICATH LA CANNULAE 14gx133mm (each) |
| V1MP06353 | ANICATH LA CANNULAE 14gx89mm   (each) |
| V1MP06354 | ANICATH LA CANNULAE 14gx83mm   (each) |
| V1MP06372 | ANICATH LA CANNULAE 16gx133mm (each) |
| V1MP06374 | ANICATH LA CANNULAE 16gx83mm   (each) |
| V1MP06375 | ANICATH LA CANNULAE 16gx75mm   (each) |
Aniset™ L/A IV set 2 & 4 Spike
Large Animal IV Fluid Administration Set
ANISET L/A 2 SPIKE™ – with two tube, clamp and insertion spike fluid delivery assemblies, for attaching two IV. fluid containers at a time.
ANISET L/A 4 SPIKE™ – with 4 tube, clamp and insertion spike fluid delivery assemblies, for attaching four IV. fluid containers at a time.

Each set allowing for high volume or long period IV. fluid administration to large animals, particularly horses from 2 or 4 containers of IV. fluids.

Clear large bore tubing (4.8mm i.d.) and robust connecting components used throughout.
Aniset™ L/A IV set 2 & 4 Spike  (High flow IV systems)
| | |
| --- | --- |
| V1HB06622 | ANISET L/A – 2 SPIKE Set |
| V1HB06624 | ANISET L/A – 4 SPIKE Set |
Download the Millpledge Aniset LA and Extension Flyer
​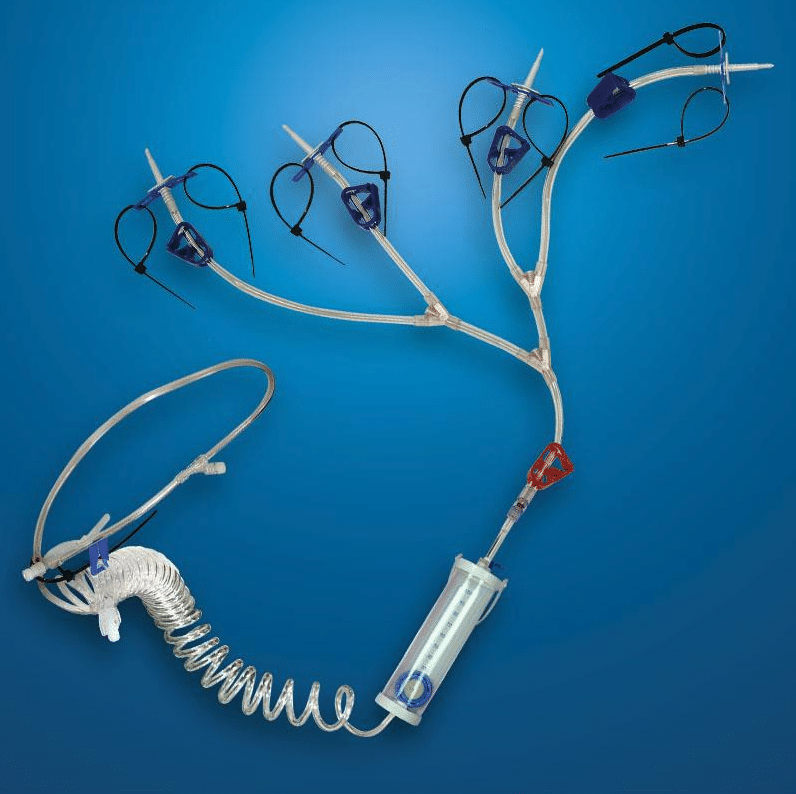 Aniset™ L/A Express
45 – 50 litres/hour.
When speed is of the essence the L/A Express is an essential piece of kit.
Designed for large animal use.
This single spike set is perfect for quick IV. administration of drugs and fluids.
It is also designed for temporary monitoring when out in the field.
Aniset™ L/A Express
V1HB06632ANISET L/A EXPRESS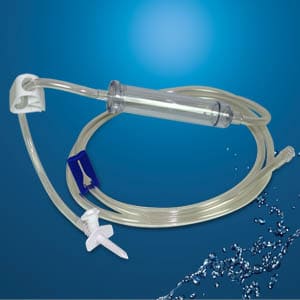 Aniset™ L/A – Extension
A pre-formed 7.5" / 190mm FIXED HALF CURVE IV extension tube that keeps its shape.
Assists in connecting and disconnecting Aniset L/A™ 2 & 4 Spike IV sets.
Avoids disturbing position or accidental 'pull out' of indwelling cannula.
Aniset™ L/A – Extension
V1HB06640ANISET – L/A EXTENSION 7.5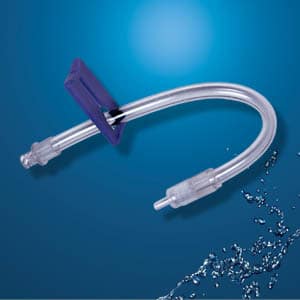 Aniset™ Foal (20 drops/ml)
For the administration of fluids and medication to animals during recovery from dehydration, illness, injury, surgical procedure, exhaustive events, inspection and birth.
Aniset Foal™ provides a secure, extensible, anti-kink fluid path from the fluid source to the animal patient. With an overall length of 12'-6" (3.9m)
Aniset Foal™ is ideal for use both in surgery or during hospitalization where the animal patient is free to move around the recovery stall.
Aniset Foal™ provides a superior reach by an extensible re-coiling anti-kink fluid line for short or extended periods of infusion.
Aniset Foal™ also incorporates a superior 360° low friction swivel connector which allows totally free rotational movement of the animal patient around the recovery area without occlusion. This, combined with the Aniset Anti-Kink® tubing, safeguards occlusion of the re-coil tube which is often experienced with some inferior brands.
Aniset Foal™ – the ultimate all-encompassing fluid administration set provides complete peace of mind and uses many of the standard Millpledge components you are familiar with which are already used throughout our extensive Fluid Therapy Range.
Aniset Foal™ is part of the Animill range of Fluid Therapy devices, using our own exclusive mouldings and bespoke extruded fluid line builds gained from over 25 years supplying Veterinary IV products.
Aniset IV sets are designed and purpose built in Millpledge's own cleanrooms exclusively for the veterinary professional and the challenging and more demanding conditions of the patient.
Each Aniset Foal™ IV Set is physically inspected as a completed assembly for any defects not spotted during the various assembly inspections. Once having passed this inspection each set is individually pressure tested to 0.07MPa (10 p.s.i) minimizing the possibility of joint or component failures during use.
Aniset™ Foal (20 drops/ml)
V1HB06626ANISET IV Foal (20dpm)
1   Hassle free, easy prime 15dpm Millpledge standard drip chamber incorporates our long super sharp spike with 3 vents (2 for fluid and 1 for air) to provide for the smooth and fast transition of fluids from either bag or bottle, made possible when you use the our ergonomically designed flip cap air vent with its in-built bacteria filter.
The spike is mounted onto the popular easy to squeeze crystal-clear filtered drip chamber.
The drip chamber incorporates the 'Ani-Chamber Tag™', a unique drip chamber tie for securing the spike and drip chamber into the base of the bag or bottle to prevent it being 'pulled out'.
  2   Directly below the chamber is the 360° in line, low friction swivel assembly for free patient movement without (under most circumstances) the need for additional rotating ceiling devices.
  3   Then follows Millpledge's own AniMill™precise V-Bed Roller Clamp for exacting fluid flow, with the positive click-in 'excess' or 'hang it up' tube parking slot. This is ideal for use during preparation following set priming prior to connecting to the accessory or device at the distal end of the IV set, keeping the distal end free from possible contaminants.
  4   Our versatile and strong AniSet R-Clamp with two tension positions for immediate 'On/Off' control of fluids.
  5   Two Millpledge manufactured 'Safety Ring' injection sites with silicon injection plugs. Both have Millpledge's unique outer safety protector ring which helps avoid needle stick injuries.
5a Proximal with Finger Guard Plate
5b Distal.
  6   Over 10' 2" (3.1m) of Aniset Anti-Kink® flexible coiled tubing together with the straight connecting lengths provides a generous 12' 6" (3.81m) total reach.
  7   The Ani-Which-Way Mane Tie – our latest design of mane tie! Soft but strong PVC accurately die-cut and shaped providing, as it suggests: Ani-Which-Way bespoke mane tie assembly for securing the distal end of the IV set close to the catheter hub to reduce the risk of catheter kinking and displacement and unexpected withdrawal. Our tie offers the widest variety of fixing positions to suit the variety of animal patients; all ensure uninterrupted line flow and total security once in situ.
Every pack includes full instructions and a variety of options to suit your preferred securing method.
  8   Luer Lock fitting for a secure connection of an Aniset extension, Aniset T-connector or Anicath L/A catheter.
  9   Aniset® Fluid priming cap completes the line, which allows the set to fill automatically without the removal of the end cap.  Expels all the air but none of the fluid. Prevents wasted medication, maintaining a clean and dry preparation area.
It is recommended that you familiarize yourself with the components and read through the instructions before use. See diagram.
Prime the ANISET FOAL™ IV. Administration Set as follows:
Note: Venipuncture must be completed prior to attachment of the ANISET 'Foal'™ to ANICATH L/A™ Catheter,
an ANISET- L/A – IV. Extension Tube™ or an Aniset Standard flow Extension. 
Before connecting the ANISET Foal™ I.V. Administration Set to an IV. Fluid bag / bottle follow instructions below.
1) When using a collapsible fluid container ensure the cap of the bacterial filter AIR INLET VENT on the Spike above the Drip Chamber is firmly closed. If Using a NON-Collapsible container the bacterial filter Air Inlet Vent should be OPEN.  
2) Ensure the roller clamp is Fully OPEN and CLOSE the blue C-Clamp just below the roller clamp assembly.
How to prime your AniSet 'Foal'
a) Introduce the long Spike with chamber assembly as normal into the bag or bottle and then position the Ani-Chamber Tag™ and use the 'releasable' security tie(s) to lock the spike into position on the bag or bottle neck (when using a bag do take care not to obstruct the flow into the spike), This action ensures in all but extreme cases of force the spike cannot be pulled out of the bag/bottle during administration.
(See Figure 1 for suggested method).
b) Gently squeeze the drip chamber to fill to approximately half full. 
c) Open the Blue C-Clamp below the open roller clamp. The Air within the tube will now slowly escape through the blue priming cap at the distal end of the AniSet 'Foal' and all tubing should be filled with the IV. fluid. NB. Check carefully for any sections containing trapped air and not fully fluid filled. Reprime as necessary.
d) When ready to connect to the indwelling catheter; close the Blue C-Clamp and remove priming cap from the distal end of the giving set and attach the "spin lock" to the indwelling IV. catheter or to the extension set.
e) Open the Blue C-Clamp and start to adjust the Drip Rate by operating the roller clamp.
SECURING FINAL TUBE LENGTH TO PATIENT'S NECK – USE THE "ANI-WHICH WAY™" MANE TIE (see below)
Using the "ANI-WHICH WAY™" mane tie which is already attached onto the giving set, gather a small bunch of mane hair near withers, position the mane tie against the hair and then thread the hair through the "M's"  and secure with the adjustable ties.
OTHER LARGE ANIMALS: Secure final tube length to patients halter/strap or ear tags.
Ani-Which Way™ is a unique securing strap designed by Millpledge allowing you more options and full control when securing and tying. Available free in packs of AniSet Foal, AniSet L/A 2 Spike and 4 Spike along with spares to give you the freedom to use them anywhere and any which way you like!
Anitube-S™ L/A 360º Anti-Kink
Large bore coiled extension tubing with 360 degree rotating Luer and Needle-Free injection site.
 Presented Sterile for single-use in Millpack™ Sterile pouches.